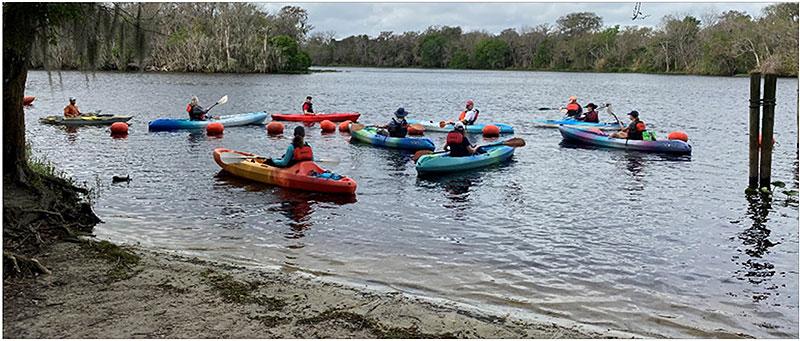 Volusia County has a fun and engaging way to educate our community about water quality issues, and — of course — ways to Protect Our Fun, through the Save Our Springs and Rivers Academy!
The Academies are hands-on, feet-wet experiences that familiarize attendees with the Blue Spring springshed and water quality impacts to Blue Spring. Encouraging conversation about topics relating to water quality is key to the success of the academies. Academy participants embark on a water quality journey, learning from presenters as well as each other, to foster a sense of community and shared resources among participants.
Hearing from elected officials, environmental professionals, local experts, and university professors on a variety of subjects related to water quality throughout the course of the academy provides a diverse range of perspectives and facilitates robust discussion. Topics have ranged from where our water comes from and what nutrient pollution is and how it impacts our water to green infrastructure, Florida-Friendly Landscaping™, solutions to water quality issues, and ways that participants can advocate for issues that are important to them. Guest speakers have included experts with the St. Johns River Water Management District, Stetson University, Bethune Cookman University, UF/IFAS, Volusia County's Environmental Management Division, and nonprofit partners.
Why It Matters
Our connection to the water we drink and have fun in is what makes us Floridians! And here in Florida, our surface and groundwater bodies are intricately interconnected. However, we can't always picture what's going on beneath our feet, beneath the ground, or in our aquifer, and it can be challenging to connect the dots between what we put on the surface and its impact on our groundwater, our springs, our rivers, our wildlife, and on us.

Save Our Springs and Rivers Ambassadors
The Academies are part of an education series that respond to a water-quality improvement need specific to the Blue Spring springshed. The septic tank education program we mentioned in the previous Be Floridian Now newsletter is also part of this series.
Because it's a primary focus of our academy, how can we not take a field trip to Blue Spring, to hear more onsite and experience the spring first-hand? At the park, we hop into kayaks and launch into the St. Johns River, embarking on a guided experience to the spring boil and the river (seasonally available, and now socially distanced) while learning about manatees and water quality. Park rangers, Volusia County's manatee protection team, and Volusia County's water quality managers lead the group through the day's activities, including a water sampling tutorial.
This shared excursion not only helps to solidify concepts presented throughout the discussions, but it also adds to the collective experience, bringing the group together around central themes.
Prior academy field trips have also included visits to the Southwest Regional Water Reclamation Facility and an exploration of the County's Lyonia Environmental Center — with a focus on Florida's scrub habitat — as well as a day at Blue Spring State Park. These field trips give academy participants a chance to learn about the role of scrub habitat in groundwater recharge, to encounter wildlife like the majestic manatee, and to feel the force of the water churning up from the aquifer.
The academies reinforce concepts with personal experience, empowering attendees in their understanding of water quality issues as they learn from presenters as well as each other. Graduates take the pledge to protect and preserve Florida's water. Upon graduation of the Save Our Springs and Rivers Academy, there are ample opportunities to advocate, educate, and participate in the community to get the word out about water quality issues!
We just wrapped up our fourth academy, and have graduated more than 65 Ambassadors to date!
People who live and/or work in Volusia County can learn more about participating in the next Save Our Springs and Rivers Academy at www.GreenVolusia.org.